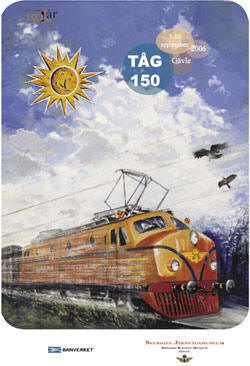 TRAIN 150 in Gävle 7-10 September 2006
The year 2006 will see the 150th anniversary of the railways in Sweden. The anniversary celebrations are being organised on the initiative of Banverket (Swedish Railway Administration), in association with Järnvägsforum (Railway Forum), Green Cargo, SJAB, TGOJ Trafik, EuroMaint and Jernhusen. The celebrations will take place throughout Sweden, and throughout the whole year.
The most comprehensive event of all - TRAIN 150 - is being organized by the Swedish Railway Museum and Banverket. The theme of the event is old and new trains and trains of the future. Banverket is thus one of the main organizing forces behind the biggest train event in Sweden in the past 25 years.
Make your choice and click the blue arrow!

Programme TRAIN 150


The modern train exhibition


Rail excursions to TRAIN 150. Vintage train and veteran trains.


Timetables for all trains during TRAIN 150


Which locomotives are pulling the trains (A PDF-file opens up in a new window)


Train sets and other machinery being used


Train numbers, loco and rolling stock rosters


Graphic timetables


Information about good photographing opportunities along the line


TRAIN 150 is right on track to become an unforgettable experience.
You'll be really sorry if you miss it!
Sveriges Järnvägsmuseum, Gävle
Tel. 026-14 46 15
E-post: jarnvagsmuseum@banverket.se