Rail excursions to the TRAIN 150 event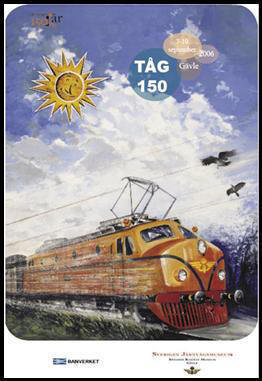 The railways in Sweden are celebrating 150 years of rail travel. Special excursion trains, from several departure points, will take visitors to and from the biggest event, TRAIN 150, 7-10 September 2006.
VINTAGE TRAIN EXCURSIONS
This autumn will see the Swedish Railway Museum's Vintage Train making return trips between Stockholm, Uppsala and the Museum grounds in Gävle for the ninth year running. The Vintage Train faithfully reflects the style and ambience of train travel 50 years ago.
Choose between the roomy wing armchairs of a 2nd Class carriage and the somewhat less luxurious sofas of a 3rd Class carriage. The carriages are marked according to the times. Today they would be designated as 1st Class and 2nd Class.
You can enjoy a meal on the Vintage Train. We serve a hot breakfast on the way to Gävle, and dinner on the return trip. Please note that seating is limited! Just book your table on boarding the train.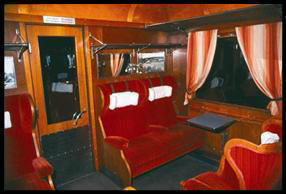 VETERAN TRAIN EXCURSIONS
We will also be running a number of excursions to the Museum using Veteran Trains that are on loan from various railway preservation and restoration societies.
These Veteran Trains are also from a bygone age. The restaurant car of the Veteran Train from Stockholm has only a limited number of seats, and the menu contains only simpler items. The menus on the other Veteran Trains are restricted to tea, coffee, soft drinks, cakes and sandwiches.
The Veteran Trains have been lent to us by Nässjö Railway Museum, Grängesberg Lines Railway Museum, Stockholm Cultural Association for Stream and Rail.
The Veteran Trains will run from:
- Stockholm and Uppsala
- Borlänge and Falun
- Eskilstuna, Västerås, Sala and Avesta Krylbo
Tickets will be sold by SJ (Swedish State Railways) from Friday 2 June.